The sun is out, let's go!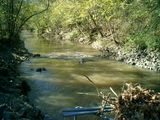 The McAlpine Creek Greenway was the main reason we bought our house where we did. Walking, running, biking and fishing in the Greenway, that's only a short block away, is priceless.
Whenever the weather permits, I'm riding my mountain bike through it's many trails. We often go for long walks around the large lake that's stocked with catfish and is full of ducks in warm weather.
Even though the Greenway is within the city limits of Charlotte, there's an abundance of wildlife to behold. Deer are always running through the woods and the bird watchers are in for a real treat.
Where we'll go, baby I don't know
Maybe we should just let nature run the show
---