Woke up to a sea of yellow leaves.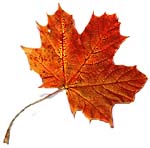 The backyard was covered by fallen leaves, every inch, even the fish in the pond were struggling to see beyond the surface. Spent the afternoon blowing leaves, didn't want the covering to get too thick or else it makes for a harder time.
I figure another couple of weeks and all the leaves will be off the trees. Then it's time to bag the piles I've made and put them out front for the garbage men to pick them up.
The falling leaves drift by the window
The autumn leaves of red and gold
---