This is the last house I will remodel, fingers crossed.
We're just about done, what remains is plenty of honey do's but the major construction is done. Can't wait to set up my home office and get to work, so much to do and just 24 hours in the day.
With 16 web sites to maintain and add content to, I wish I had 36 hours in my day. There's no way I could accomplish what I do without the dynamic site building tools at my disposal. I couldn't fathom maintaining web sites the old fashioned way, Notepad and FTP.
So I'm hanging up the tool belt,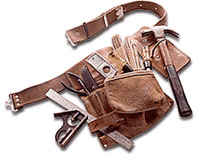 the keyboard beckons.
---