Santa left us a wireless laser printer for Christmas.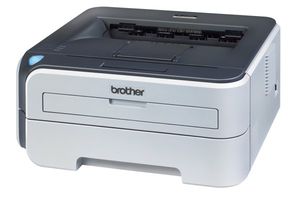 Twas a Brother HL-2170W nicely wrapped up in red paper, with a blue bow.
Everyone wondered what was in the box, we left it for last, drew straws as to who would get the honors. The time came, red paper flew and revealed our new press.
Gone are the days of expensive inkjet cartridges. A quick net price check and for $30, a laser cartridge will yield roughly 1,500 pages, that's $.02 cost of ink per page. On average inkjet is $.06 per page, with the most expensive inks going as high as $.12 per page.
The printer comes with a USB port, an ethernet port and wireless technology. Setup was easy, I used the ethernet connection to configure the wireless security settings and the residential gateway welcomed the little bro into our home network.
Compared to the parallel port lasers of days gone by, this one is light and whisper quiet when waiting on a print job. Pages spit out quickly, even graphic intensive Google satellite maps. Now we don't need to buy a navigation system for the car, that Santa thinks of everything.
Grandma got run over by a reindeer
Walkin' home from our house Christmas eve
You can say there's no such thing as Santa
But as for me and Grandpa, we believe
---