Our third Winter in NC and my body has gotten used to the cold temps.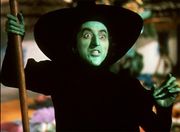 The cold weather in Charlotte isn't all that bad, you'll have a day when it gets really cold but then the next day it's great walking weather. It does confuse the heck out of my mother-in-law though, she can't quite figure out what to wear. She'll step outside and soon come to the realization that she's not in South Beach anymore.
When it's cold, as long as you keep moving and/or take shots of Hennessy, you're ok. Heck, cognac fueled this past week's blowing of the last major droppings of leaves for this Fall. Blower and mower are now happily in hibernation, I'll re-introduce myself come April flowers.
Ding Dong! The Witch is dead
Which old Witch? The Wicked Witch!
Ding Dong! The Wicked Witch is dead
---