Santa left a computer under the tree this year. We asked for a Netbook, but he knew better and got us the equivalent, but with a bigger screen.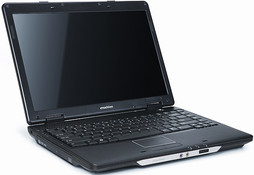 The eMD620-5133 laptop is powered by a 1.6GHz AMD Athlon 2650e, a single-core processor with a TDP of 15W. This new 64-bit AMD chip is designed to compete in the low power arena of Netbooks and Nettops.
The laptop is whisper quiet, feels light and runs cool, you can actually keep it on your lap for hours without it scorching your thighs. Most of today's dual-core laptops run very hot, they are nice if you plan on rendering a movie while traveling to work, but for surfing the web, listening to music and working on documents, the 2650e is plenty fast.
This is the first machine in the household that runs Windows Vista, thankfully the laptop came with 2GB of DDR2 memory, so it's snappy. What little I've used of Vista, while cleaning up the system of bundled apps, it appears to be a nice operating system with a bad rep.
Santa baby, slip a sable under the tree, for me
Been an awful good girl
Santa baby, so hurry down the chimney tonight
---