Finally opened the box.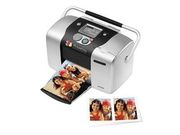 When I bought the Nikon D40 in Chistmas, I also got the Epson PictureMate photo printer. The box sat unopened in the closet, till today. Setup was a breeze and I was printing 4×6 glossy photos in minutes, wonder why I waited so long?
The quality of the photos look great, I can't imagine how much better they would look if they were printed in a photo lab. I was always skeptical about home photo printers but having one around to print a few shots is very convenient. Between paper and ink, each photo comes out to 29 cents, a bit pricier than the 19 cents the local camera shop charges for a 4×6, but you pay for staying in your pajamas.
A photo can capture the way we were,
But it can't capture the way we are
---