Today, I hovered over Miami.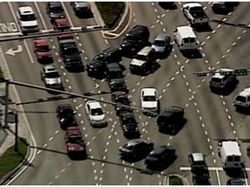 The lights went out in a large portion of Florida this afternoon. CNN was featuring a live feed from WSVN, so I sat and watched as their helicopter hovered over the city. The pilot would fly around and then stop at an intersection, I guess waiting to see an accident or a road rage incident.
At every intersection, I knew instantly where the pilot was at. Years of driving around Miami had instilled marker intelligence into me, it was like I was visiting in a virtual sort of way. Half hour into the feed, I made some espresso and grabbed a piece of flan from the fridge. It was a pleasant visit, I'll have to do it again someday.
Won't somebody throw me down a line
The city streets are full of people going nowhere making time
---