Growing up I got hooked on football, I blame the hail mary passes of Roger Staubach.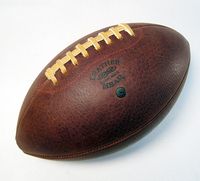 Lately, I've been watching very few games. I may catch a local Panthers game so I can root for a dozen Krispy Kreme glazed donuts for $3.99 on Monday.
What do I attribute the decline in my viewership? The amount of commercials, it's gotten so out of hand that it's affecting game play and stadium turn out.
The typical football game lasts about 3 hours, the calculated time the teams are actually playing is a mere 11 minutes. The nauseating repetitive commercials take up an 1 hour of the telecast, another hour is taken up by players standing around and the remaining minutes are eaten up by instant replays, sideline shots, crowd shots, coach shots, etc.
So a condensed game could easily fit into an hour, 11 minutes of game time, shortened huddle shots, no need for instant replays and no freaking commercials. Instead of sitting down in front of the TV for 3 hours, I could see a game in an hour and stay focused. I have a fall project to work on, just need a TV tuner card and to code up some scripts.
Well it's Monday night
A new week has begun
I turn on my TV
For some pigskin fun
---