These days, putting up a web presence requires patience.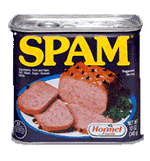 Spam, the scourge of email, has many incarnations:
Referrer spam – where your visitor logs are full of erotic links
Comment spam – where bots leave prescription drug links to give you stamina for the erotic links
Forum spam – where bots leave erotic, drug, get rich quick scheme links and the occasional joke to cheer you up
The heart of the problem lies in new websites paying someone to help them with search engine placement. Rather than put out good content and wait for visitors to find them, they clog up the net with links back to their sites.
Spam
It's pink and it's oval
Spam
I buy it at the Mobil
Spam
It's made in Chernobyl
Spam
---