Spent 3 days testing mice.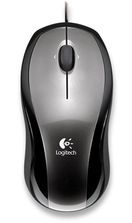 Settled on the Logitech LX3 optical mouse for my daily use. I like the way it feels in my hand and the rubberized sides are a nice touch. The scroll wheel is one of the best I've ever used, I programmed it's side to side scrolling to be back and forward browser buttons. The high defnition optics make for very precise movement when editing or touching up images.
My home testing consisted of the following mice:
Logitech LX7 Cordless – The scroll wheel was too hard to act as a middle button.
Kensington CI60 Wireless – Too bulky and it felt unresponsive.
Microsoft IntelliMouse Explorer 3.0 – Even though the gamers love this mouse, I couldn't get used to it.
Many years ago I settled on the Logitech First Mouse for all my computers, it had the 3 buttons I needed while using Linux and browsing with Netscape. When the scroll wheel mice came out and I could use the wheel as a middle button, I switched to Microsoft's IntelliMouse. Then I standardized on the Microsoft Wheel Mouse Optical, no more cleaning mouse ball lint and the need for mousepads.
I still use the Microsoft mouse on my Debian workstation but I wanted to try out something newer on my Windows laptop. What's left is to boot over to Ubuntu and configure the LX3's side to side scrolling.
Here I come to save the day!
That means that Mighty Mouse is on the way!
---