Getting up early to watch the Tour de France.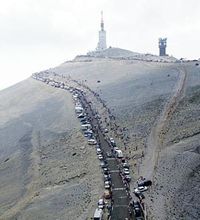 Today's stage was one of the toughest of the tour and one of the most exciting. Lance was third overall and just needed to keep the Schleck brothers from going up the road without him. Would of been a fitting end if Lance would of won the stage but Garate came in 38 seconds ahead of him and claimed the win.
Tomorrow, we sip champagne into Paris. I'm rooting for Cavendish to win on the Champs-Élysées.
You say Rolls, I say Royce
You say God give me a choice
You say Lord, I say Christ
I don't believe in Peter Pan
Frankenstein or Superman
All I wanna do is
---