With Giga up and running, I wanted to stream my MP3's to the main stereo.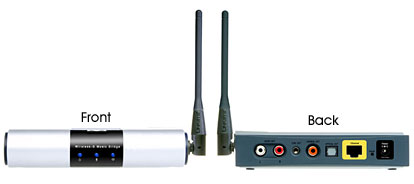 Did some reasearch and settled on the Linksys WMB54G Music Bridge. Since my wireless router is a Linksys WRT54G, I knew I wouldn't have any problems getting it working.
So far, so good, with 192kbps being the sweet spot for good digital sound. I turned off the equalizer in Winamp and use the Music Bridge's own equalizer. The MB utility hardly uses any memory or resources, very well done Linksys.
The laptop has now turned into the Jukebox for the house and I can roam the backyard picking tunes.
When you're weary, feeling small,
When tears are in your eyes, I will dry them all;
I'm on your side, when times get rough
---