New Coke, the poster child for new and improved gone horribly wrong.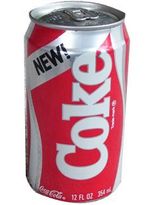 The software arena has many such tales of trying to improve on something that just plain works. For the most part, changes alienate long time users and does nothing to spur new interest because of the negative comments that ensue.
In today's social web, user comments make or break your application. The code behind your desktop or web app has less to do with it's success, than that of the user's perception.
Let's look at some examples:
So does new and improved work for software? I say no, I say what got you your audience is what they want. Improving on that experience, or should I say changing the experience is fraught with peril. Google has never changed their clean crisp home page for a reason, it works and that's just fine by us. Ba da bing, ba da boom!
Come on and let me off to a better way
Open up a smile on another's face
So I can feel something new
---