My Christmas present.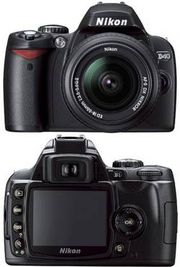 The Nikon D40 was made for me, the pro qualities of a D50 in a lighter body. Even the Nikkor lenses are lighter, doesn't feel like much to carry around in the Lowepro backpack.
The kit came with an AF-S DX 18-55 mm lens and I opted for the matching AF-S DX 55-200 mm lens also. Throw in a couple of SanDisk 1GB SD cards, an extra EN-EL9 battery and I can take 900 shots before needing to dock with the laptop.
My aging eyes appreciate the large 2.5 inch TFT LCD, the menu system is similar to it's more expensive cousin, the D80. There's full automatic mode for dead simple operation but with plenty of options to keep me playing for months.
I've been wanting to buy a prosumer camera for the longest time but I didn't want to lug all that weight around. The D40 will make for a very agile backpacking companion, can't wait for Spring time.
I got a Nikon camera
I love to take a photograph
So Mama don't take my Kodachrome away
---