One year ago, we were closing on our house in Miami.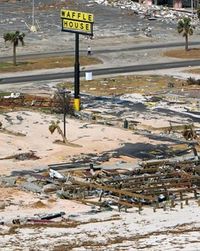 Katrina had come over us four days earlier and knocked out our lights. The electricity came back in time for the movers to put our furniture into storage, our units were on the second floor and we needed the elevators to be working.
The following day I found a gas station that was open and filled up the tank in the van. That afternoon we loaded everybody in the van and headed to North Carolina. I drove all night, just stopping to top off the tank when it got halfway, didn't want to run out of gas.
What a relief it was to arrive in Charlotte by morning, leaving the madness of a ravaged South Florida behind. Calm and serenity awaited us in our hotel rooms, we could finally kick back and chill after a week of nail biting.
It's early morning
The sun comes out
Last night was shaking
And really loud
---