This was the pond when we moved in to the house.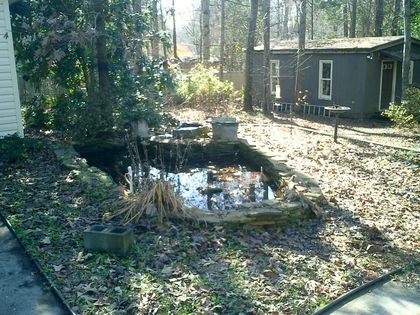 A debate arose as to what to do with it. The option of filling it in was heavily championed by some board members. The decision was reached to clean around it and do the best we could on the surface of the water.
Over the last five months, we've all grown fond of the wildlife in the pond. The fish, those that have survived, swim under the lily pads taking you on their backs. The frog, aptly named Kermit, is no longer scared of us.
So the board met and Brian Kuchinski of Peaceful Ponds was picked to wade through the murky water. The sludge was over a foot in depth from years of leaves settling to the bottom. Brian and Jamison saved 9 fish, quite a number of tadpoles but Kermit put up a fight.
The event was digitally recorded, and so begins the gallery.
Gonna make everything, pretty mama
Gonna make everything all right
And I aint got no worries
Cause I aint in no hurry at all
---