My Herman Miller Aeron chair was in need of repair.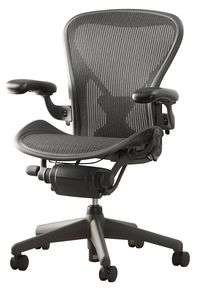 After 11 years of daily use, the hydraulic cylinder supporting the seat began to leak. Eventually it lost all of it's liquid and I was relegated to surfing at mouse level.
Called in a repair request, and for most of March, I was sitting on a living room wing chair. Oh, how I missed the Aeron, could never get comfortable on a cloth seat.
I can sit for hours on the Aeron, never experiencing butt hurt or back pains. Yet on a regular chair, I'm paying more attention to the seat than my screen.
Luckily the Aeron was still under warranty. The cylinder was replaced with a new seat adjusting mechanism they had just released, going up and down was smooth as ever. The wing chair went back to the living room, see you in another 11 years.
And as the days go by
It makes you wonder why
You try so hard, so hard
To mend what's bound to fall apart
---