Decided to replace the Mr. Coffee.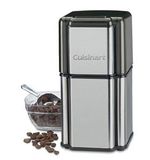 So I went online and did some research, I ended up buying the Cuisinart Brew Central. This coffee maker makes great coffee, it comes out piping hot. The hotter the water, the better the taste of the brewed cup, oh the things we learn.
I had the coffee maker for a couple of weeks and decided to get it's matching grinder. Everyone online kept talking about fresh ground coffee from beans, I had to try it out. Put in some Starbucks beans, press the grind button, whoa the smell. Let me just say that I had to put a caution sticker on the side of the grinder – This can lead to serious adrenaline rushes, grind responsibly!
Meet me at the coffee shop
We can dance like Iggy Pop
---