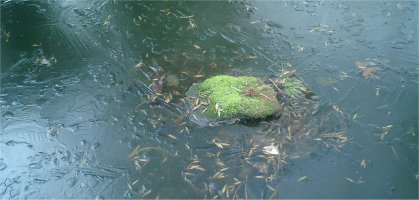 The temps got down in the 20's last night and this morning we awoke to a very frozen pond. The Koi's are in suspended animation and awaiting the Spring thaw.
We had snow flurries yesterday. It was pretty exciting, I guess anything would be exciting to us Snowbirds. The snow didn't stick but I did go outside and tried to catch some flakes in my hands.
Our bodies have adjusted to the cold weather by now. It gets cold at night but it's so pleasant to go for long walks in the afternoon sun.
And I saw my reflection in the snow covered hills
Well the landslide brought me down
---