Today, we unloaded the truck.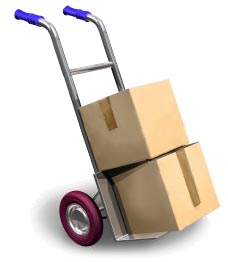 Monday and Tuesday was rainy but today was a nice sunny day and we took advantage of the Spring weather. The house looks a mess but all our stuff is safely inside and awaiting organization.
We figure that we saved about $8,000 doing it ourselves, so it was well worth a week of my time. The Penske truck drove great and I got a great deal on it, I highly recommend them over any other rental outfit.
So we're officially North Carolinians, that feels good to say.
Dark and silent last night
I think I might have heard the highway calling
Geese in flight and dogs that bite
Signs that might be omens say I going, going
I'm goin' to Carolina in my mind
---