The Miami Heat win the NBA title.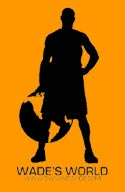 Dwyane Wade, the MVP, the star of the NBA for years to come.
Impressive series, the Miami players turned it up a notch in game 6. Dallas didn't seem to want it that badly, they gave up 2 huge leads in the game.
With Carolina winning the Stanley Cup last night, this has been an interesting couple of days.
The shadows are on the darker side
Behind those doors, it's a wilder ride
You can make a break, you can win or lose
That's a chance you take, when the heat's on you
---