Say hello to my little friend.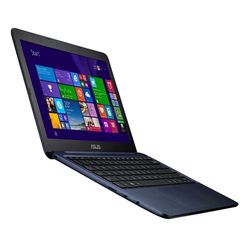 My main computer is a desktop, I'm old school, I like the expansion capabilities of a full tower.
For those times when I don't care to sit at my desk, there's my testing laptop, of the traditional variety we've become accustomed to.
I also own an Android tablet, it's a great device for looking stuff up while couch potatoing.
With technology going at such a rapid pace, producing ever shrinking components that keep getting faster. It was inevitable to see a device with the horsepower of a laptop, coupled with the all-day battery life of a tablet, running a full operating system.
While at Best Buy the other day, I caught a sign saying additional 15% off all open box items.
Being always on the lookout for new tech, I came across a mini laptop marked down to $163. The register rung it up for $139, after a manager's key enabled the additional 15% off.
My new little friend is an ASUS X205TA, it follows me everywhere. Windows 8.1 on 32 GB of eMMC storage, an Intel Quad Core Atom processor running at 1.33GHz, 2 GB of DDR3 memory, Intel HD graphics with HDMI out, Bluetooth and 802.11abgn connectivity.
Let me tell you what I've done with the little guy:
Windows 8.1 with the Classic Shell is working fine on 2 GB of ram.
Every piece of software that I use on my desktop, runs without a hitch.
Inserted a 32 GB Class 10 microSD card with my web development environement on it.
Skype for desktop video calling is the shits on this thing.
Got an

HDMI

to microHDMI adapter and streamed a 1080p MP4 video over

WIFI

to a 40 inch

LED

TV, while pumping sound out the headphone jack to my home stereo.
What can't this thing do?
Battery life is excellent, lasts all day doing 2d type of work, like surfing the web, reading docs and working on code. Wakes up from sleep instantly, needing a power cycle only on Windows updates. It's a keeper, it's my little friend.
I wish all the time machine could take me back again
To the wonder of my first love, the old folks tease me 'bout
Referring to her only as my little friend
---