Spent the last 3 days in the yard.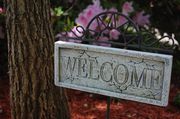 This Spring, our hard work is truly paying off. Everywhere we turn, there's an Azalea blooming in magnificent colors.
All the yard needed was some cleaning up, fertilizer and afternoon watering sessions. David, the previous owner, takes all the credit for the mature yard, we just polished it up. Most of the bushes are many years old, as are the towering trees, we're just amazed by it all.
When the white azaleas start blooming
I'll come back to you
When Spring's in the air with its freshness so rare
We'll make our dreams come true
---