Jelly Bean makes its way to my Nook Color tablet.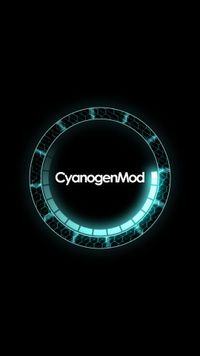 With a new boot animation, as seen at left, my Nook Color has a new lease on life.
Yesterday morning, I prepared an SD card running CM10 nightly using instructions on the XDA forums.
After running CM10 all day, I decided it was time to flash the internal EMMC using instructions on the XDA forums.
This morning, I updated from cm-10-20121210-NIGHTLY to cm-10-20121211-NIGHTLY with the new automated update mechanism in the CyanogeMod settings screen.
No more lengthy instructions to follow to keep the Nook up to date, it's like I'm running Debian on the tablet.
Jelly Bean feels like a tablet OS, unlike Gingerbread which felt like I was running a phone OS. Using the internal EMMC to hold Android and whatever apps I may install, leaves the SD card slot free for a 16GB Lexar I had in stock.
As for apps, I'll need to install much less than before because Jelly Bean feels more complete. The web browser is great, as is the email and calendar apps, and of course whatever tweaks CyanogenMod has made like the new file manager.
Open Source, you gotta love it.
Jelly Bean, Jelly Bean
Well that's the name we picked for you
And it fits you to a T
---