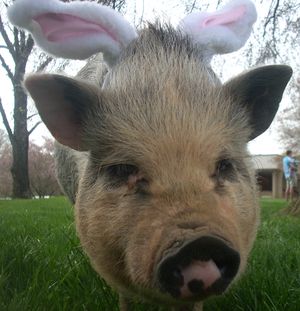 Affectionately dubbed Chicharrón.
This was the picture from this past Easter weekend that stuck in my mind, made possible by a local church that offered a petting zoo for the kids to enjoy.
Easter, a celebration of rebirth. All you have to do is look outside at the flowers blooming and the trees sprouting new leaves to get all excited about shorts.
A strange thing happened to me this past week, the crucifix that I've had around my neck since I was 18, had Jesus come off of it. While the jeweler was soldering him back to the cross, I couldn't help but feel bad, like I was commissioning his crucifixion, again.
I am the spring, the holy ground
The endless seed of mystery
The thorn, the veil, the face of grace
The brazen image, the thief of sleep
The ambassador of dreams, the prince of peace
---