Dude's starting an Open Source project.
Textpattern
After 15 years of using Textpattern CMS, I have decided to fork the code base and take it in a direction of my choosing. I've been touching on it for quite some time over at my tech blog.
Wow, Dude's got a tech blog, wonder what else he has?
Tenga fe mi hijo
The new project will be called Gina CMS.
Gina is what we affectionately called my mom, Georgina. She has a hand in this, though long ago, nonetheless critical in the grand scheme of things. 16 years ago, Gina gave me a spare room in her house to experiment in this new thing we called the World Wide Web.
2004, the economy was in the shitter, foreboding what would happen the following year. I was 20 years into a computer career and had tired of supporting small businesses. The Internet was getting going, so Gina says to me, Tenga fe mi hijo, have faith my son.
Charlotte
2006 saw us move to Charlotte and I continued what I had started in Gina's House.
Having the McAlpine Greenway a block away, allowed me to jump on my mountain bike at any time to take an idea on the road. I credit these years of living amongst the trees for helping me re-learn my craft, and for allowing me the time to adjust to this new world.
Let's hand it off to the tech blog to tell the tale of hcgtv.
Gina
The decision to name the project after my mom was hers. You see I've been going over old pictures lately and I started a picture wall. I place a small piece of electrical tape on the back of the photograph and gently place it on my office wall. Building a puzzle of my life, I is.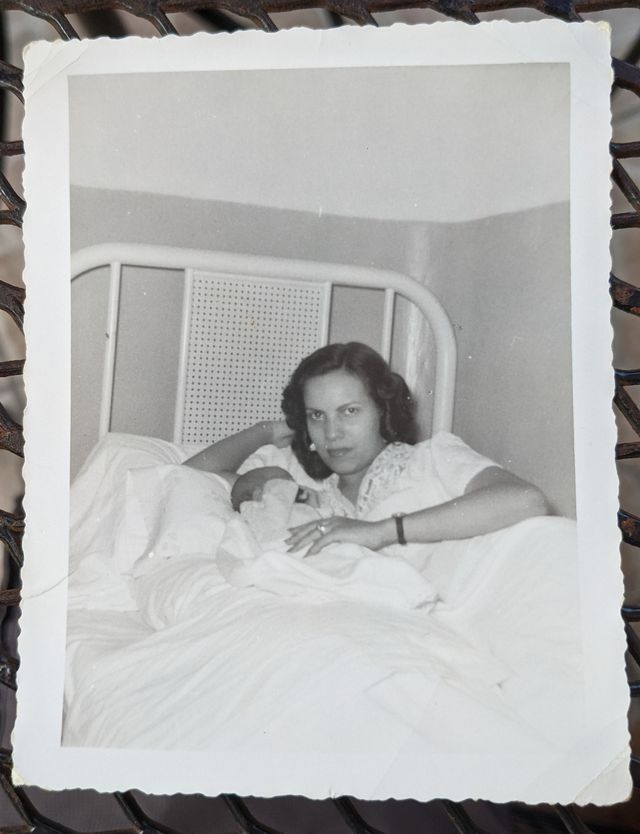 This morning, the sun came in and shone on one of my Mom's pictures where she's cuddling a day old me, it was featured on the home page. The sunlight you see in the picture is from the sun of today shining on my Mom of yesteryear, looking fierce, protecting her son.
Mom says to me this morning, Tenga fe mi hijo.
---
Live as if you were to die tomorrow.
Learn as if you were to live forever.
Mahatma Gandhi
---