Ten years ago, I laid claim to the Sun Room, a cable's length to the router.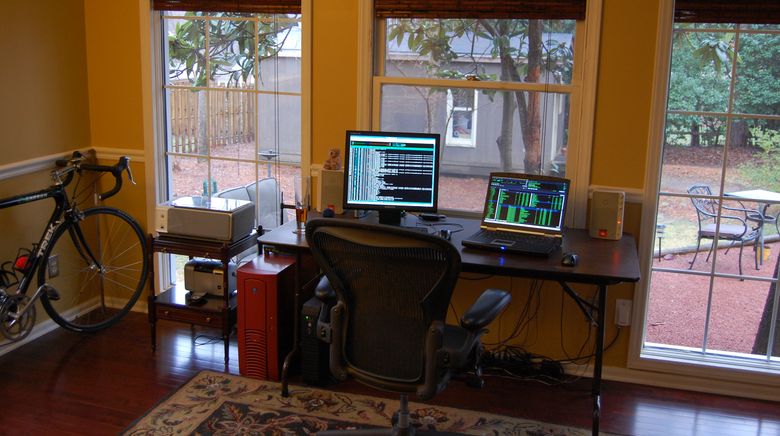 Last weekend I moved the office to a spare guest room, with it's own bathroom, and the privacy of a door for alone time. All week I've been getting used to this new location, walking past the Sun Room getting all nostalgic like.
Hanging a "Do not disturb the Geek" sign on the new office's door has increased productivity. Working in the Sun Room always proved distracting, but I loved the view of the Goldfish pond, and the animals who made my backyard their home.
Bought a Netgear WNA3100 Wireless USB adapter, in order to move the wired desktop. Getting WiFi speeds of 130 Mbps, at that speed I can continue working just fine. The desktop will not be a media server anymore, don't want to use up my WiFi bandwidth, there's always USB thumb drives.
Commandeered a 40 inch LED TV for my Chromecast viewing pleasure. When I'm not watching Netflix for a much needed break, the LED is flipping through hand-picked photos by the Google team. Screensavers have come a long way.
Brought the WaterRower in from the back workshop. Winter is fast approaching, time to start making the switch from biking to rowing.
Climb back in the cab, cross your fingers for luck
We gotta keep moving if we're going to make a buck
---