The lightning, the thunder and the sideways rain.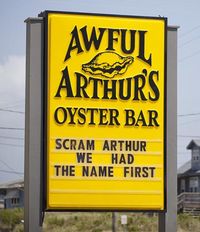 Here in Charlotte, though Arthur was very far away banging on the coast, that didn't stop some outer bands from paying us a visit last night.
Heavy rains with frightening lightning strikes played havoc on our dog. The little guy was shivering, didn't know where to hide from his fear.
The first named storm of the season makes landfall, ominous sign? Arthur, Bertha, Cristobal, Dolly, Edouard, Fay, Gonzalo, Hanna, Isaias, Josephine, Kyle, Laura, Marco, Nana, Omar, Paulette, Rene, Sally, Teddy, Vicky, Wilfred
Where hurricanes used to bother the heck out of Florida, these past few years they appear to have their sites on the upper east coast. Beach erosion, which happens naturally from rising tides, is accelerating with all these storms banging into our fragile coasts.
The North Carolina coast is a very beautiful place to experience, the sand dunes that stretch like forever, we best enjoy them while they last.
Arthur he does as he pleases
All of his life, he's mastered choice
Deep in his heart, he's just, he's just a boy
Living his life one day at a time
---