Picked up a Jam Classic wireless speaker for my traveling music needs.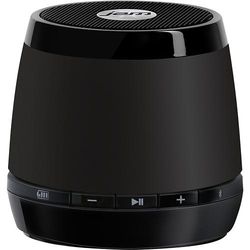 When on vacation, away from my stereo, I needed something to hook up to my tablet or iPod to play some music. The Jam Classic, highly recommended by the Best Buy salesperson who happens to own a few, has proved to be worth the $23.99 I spent.
Hooked to the iPod, playing a high bit rate MP3, the sound is more than enough to fill a hotel room. Hooked to the tablet, my movie viewing takes on a different perspective, I no longer have to use headphones to enjoy the action.
The best part about the Jam Classic has to be it's Bluetooth speakerphone capabilities. A feature I didn't even know it had, but very welcome nonetheless. Now while I walk around the hotel room, I can carry on a conversation, with great audio.
Tablet, iPod and laptop in tow, I'm ready to hit the road and Jam ;)
Pump up the jam
Pump it up
While your feet are stompin'
And the jam is pumpin'
Look at here the crowd is jumpin'
---