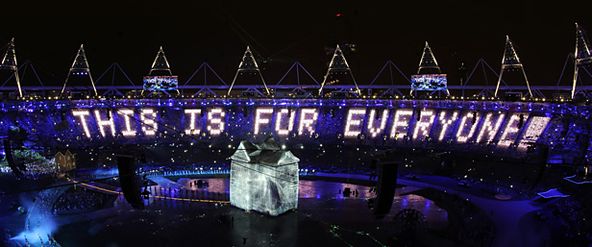 The opening ceremonies of the 2012 London Olympics had a message to the world, the games were open to everyone, not to just those privileged enough to have a cable subscription.
After authenticating with Time Warner, I anxiously waited till 4:00pm EST to catch the opening ceremonies on the NBC website. 4 o'clock came and went and no live streaming from NBC, the bad news was all over the web. Not a problem I thought, do some searching around and I come upon live feeds from all over the world. I settle on a rather nice bitrate from French television and my laptop starts streaming the opening ceremonies live.
By 7:30pm EST, when NBC begins broadcasting the opening ceremonies, I'm watching Paul McCartney sing Hey Jude to the London audience. After Paul finishes up, I join my family in the living room to watch the ceremonies on our high-def television with surround sound. We were truly enjoying the telecast, that is until NBC started cutting to commercials rather frequently during the parade of nations. I made it through the C's, had to share the experience of seeing Cuba marching out, then it was a slow exodus from the living room. One by one everybody went back to their computers, the couch finished watching the telecast.
On the French live stream, I don't recall a single commercial during the parade of nations. I watched each and every one of the 204 participating nations proudly wave their flag to the packed stadium, no matter if they had 4 or 400 athletes trailing behind.
And all that you slight
And everyone you fight
And all that is now
And all that is gone
And all that's to come
And everything under the sun is in tune
But the sun is eclipsed by the moon
---