Upgraded the memory on two of our Gateway laptops.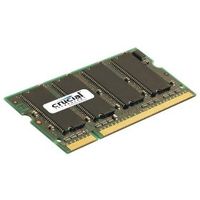 With money being tight nowadays, the best thing you can do for an aging computer is to install more memory. My laptop, a 7508GX, came with 1GB of memory, two 512MB sticks, one internal and one user accessible. My wife's laptop, a 3018GZ, came with 512MB of memory, two 256MB sticks, one internal and one user accessible.
A 1GB stick of Crucial PC2700 DDR memory is going for $40 on Amazon, so I purchased two. I wanted to upgrade my laptop to 2GB of memory, I would use the two 1GB sticks in my laptop and then use the two 512MB that I take out to upgrade my wife's laptop. After a few emails back and forth from Gateway support, I went the user accessible route.
Even though my laptop went from 1Gb to 1.5GB, it has made a difference, no waiting for applications to reload from the paging file when they've been residing on the taskbar. My wife's laptop feels like a new machine, going from 512MB to 1.25GB made a huge difference, she's a happy surfer.
One day, I'll attempt to take the laptops apart and see where the internal memory is, but for now, we've given new life to our 4 year old laptops.
This may never start
We could fall apart
And not be your memory
---