Congratulations to the Miami Heat for winning the 2012 NBA championship.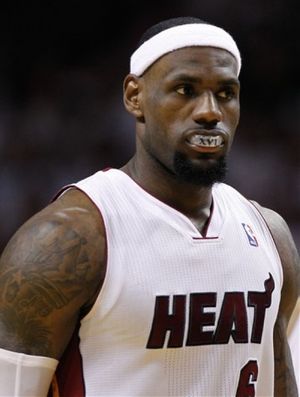 Lebron James wore a mouthguard with the Roman numerals XVI as a reminder to himself and his team that it takes 16 wins to be awarded the NBA trophy.
That attitude was evident in game 5 against OKC, when Mario Chalmers began to celebrate a bit too early. Lebron came over, flashed his mouthguard and waved off any jubilation. Win XVI wasn't in the record books and he was not about to let it slip away by letting his team get cocky.
Win XVI did finally arrive in the city of finicky fans, no early exits were noticed.
Lebron James and Chris Bosh were signed in 2011 to complement Dwyane Wade, anointed the big 3, the second coming, and all that. But the win in game 5 was a team effort; 23 points from Mike Miller, 11 from Shane Battier and 10 from Mario Chalmers were added to 26 from Lebron James, 24 from Chris Bosh and 20 from Dwyane Wade.
Let the Dynasty begin, cue comparisons to Michael Jordan, increase viewer ratings for ESPN.
I've paid my dues
Time after time
I've done my sentence
But committed no crime
And bad mistakes
I've made a few
I've had my share of sand kicked in my face
But I've come through
---