Noah's Ark Seen Careening Around Racetrack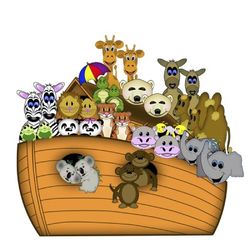 Last night's Coke Zero 400 is the last NASCAR race I'll tune into. The latest trend of the two car draft was the last straw in a long line of tweaks and management decisions that has ruined this sport.
The car of tomorrow, restrictor plates and the chase have all contributed to make this form of racing virtually impossible to get excited about for true race fans.
My sympathies go out to the drivers and pit crews that have to follow the stupid schemes drawn up by the suits in the front office. True race fans would follow you if we could differentiate a Toyota from a Ford. We'd truly get excited if you could actually race, instead of being throttled back. And what do we do if our favorite driver doesn't make the chase?
True race fans want to see a race, not a demolition derby. Yet it seems NASCAR is catering to the thrill seekers, the commercials say it all, man hole covers blowing into the air and some guy jumps on one of them. I've got a new acronym for your sport, how about DARWIN?
Thankfully we still have Formula One to watch, and even though Sebastian Vettel is dominating the circuit in his Red Bull machine, it's racing we can get excited about.
Oh Rapid Roy that stock car boy
He's the best driver in the land
He say that he learned to race a stock car
By runnin' shine outta Alabam'
---