Needed a better way to talk on Skype.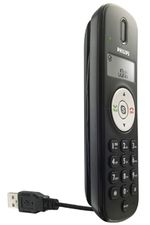 Spent a while researching phones to use with Skype, I wanted a Wi-Fi model but settled on the USB connected Philips VoIP 151 phone.
Philips loads a sound driver, that once properly configured, handles all the sounds coming to and from Skype. The phone sounds fine, I can hear the other party and they can hear me.
The phone rings rather loud, so no more missed calls because the computer speakers are playing music at a low level. There is access to your contacts from the phone, it's like a remote control to Skype and it works well.
Belkin, Philips, Netgear and IPEVO all had Wi-Fi offerings but no model stood up to user reviews. I'm hoping that 2010 brings new choices, so I can carry my phone around the house and take it with me when I travel.
Hello, how are you?
Have you been alright?
Through all the lonely, lonely, lonely, lonely, lonely nights
---