Got a new game system for $20.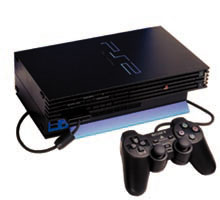 Was debating on getting a new-gen gaming system for the family room. So I went researching which system to buy, either an Xbox 360 or a PS3, then I happened on hdgames.net.
What I found out was that certain games could be made to look better on the PS2 with the purchase of a component cable. A quick trip to the store and I'm racing at 1080i in Gran Turismo 4, looking just as good as an Xbox game. Though there aren't many games that can go to 1080i yet for the US market, there are still many PS2 games that can be played at 480p with the new cable, an improvement over 480i.

So now that I've saved $500, I can use it towards a Logitech Driving Force Pro steering wheel and a Virtual Racing Chassis from Bob Earl Racing.
I've been drivin' all night,
My hand's wet on the wheel
There's a voice in my head that drives my heel
It's my baby callin', says I need you here
And it's half past four and I'm shifting gear
---