Just when you're ready to greet the warmer Spring weather, the wind stream brings cold air down to mess with us.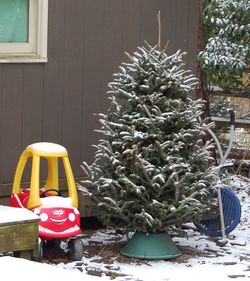 This week's snow flurries are better than last week's ice storm, it was quite treacherous trying to get around last week.
The Christmas tree pictured on the the left is this year's tree, it replaced last year's tree that was looking rather ragged.
This is the last snow I'll see for some time, we're almost finished organizing our stuff for the sale of the house. Yes, our stuff owns us ;)
The for sale sign is going up on the lawn mid March, I'm going to miss Charlotte.
It's funny how some distance
Makes everything seem small
And the fears that once controlled me
Can't get to me at all
---