Toshiba entices us with a Satellite laptop for $229.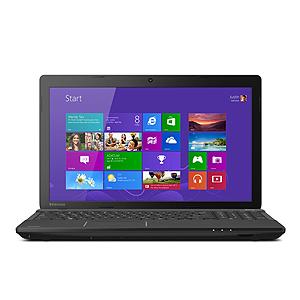 My daughter needed a new laptop, so we've been on the lookout for the last few months. With more and more video content available online, her 5 year old laptop wasn't up to the task.
This past weekend Best Buy offered the Toshiba Satellite C55-A5300 for $229, on Monday morning we were tucking the last one in stock under our arms while we perused the store.
The Satellite comes with Windows 8, my first face to face contact with the Metro interface. As a long time computer professional, I have mixed feelings, but my daughter likes playing with the new apps. I updated it to Windows 8.1 immediately and configured it to boot to desktop, that's better. Microsoft, what were you thinking?
The laptop is plenty fast, the dual core Celeron hardly breaks a sweat, 4GB of ram is enough to juggle all the running apps, and the 500GB hard drive is a nice size for music and video storage. I was surprised to see how strong the Wi-Fi signal was on the second floor, seeing as our Linksys router sits on my desk on the first floor. All things considered, it was a good purchase.
I got a little change in my pocket going ching-a-ling-a-ling
Wanna call you on the telephone, baby, give you a ring
But each time we talk, I get the same old thing
---