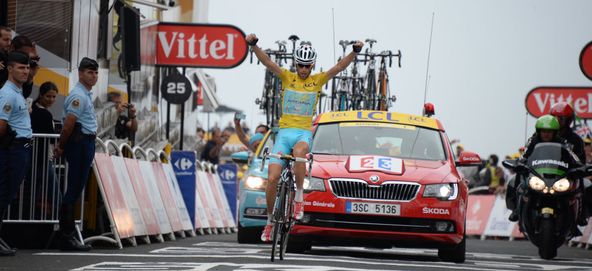 Winning today's 18th stage of the 2014 Tour de France pretty much cements Vincenzo Nibali as this year's winner. With Froome and Contador out of the picture, it was Vincenzo's tour to dominate. Not saying he wouldn't of won anyway, it would just have been a closer contest. As it sits now, Vincenzo is 7 minutes ahead of his closest rival.
Vincenzo is an excellent climber, and that's where the Tour is won, at high altitude. While everyone else is struggling to ride up the mountain, el Tiburon has an electric motor neatly tucked away in his carbon fiber frame. It's one thing to pedal up an incline, it's an entirely different situation when every breath you take has less oxygen due to the dispersed molecules in the air on any climb over 5,000 feet in elevation.
Three more stages left to ride, and then it's adieu till next year.
Oh the shark has pretty teeth dear
And he shows them pearly white
Just a jack-knife has Macheath dear
And he keeps it out of sight
---