Gilda, Jane, Chevy, Laraine, Garrett, John and Dan. (SNL 1975)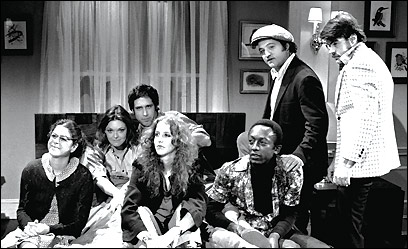 Chevy: And now, as a public service to those of our viewers who have difficulty with their hearing, I will repeat the top story of the day, aided by the Headmaster of the New York School for the Hard of Hearing.
Chevy: Our top story tonight.
Garrett: OUR TOP STORY TONIGHT!
Chevy: Generalissimo Francisco Franco..
Garrett: GENERALISSIMO FRANCISCO FRANCO..!
Chevy: ..is still dead.
Garrett: ..IS STILL DEAD!
Don't give us none of your aggravation
We had it with your discipline
Saturday Night's alright for fighting
Get a little action in
---