Congrats to Bradley Wiggins, Peter Sagan, Thomas Voeckler and Tejay Van Garderen for winning the Yellow (individual), Green (points), Polka Dot (climber) and White (youth) jerseys respectively in the 2012 Tour de France.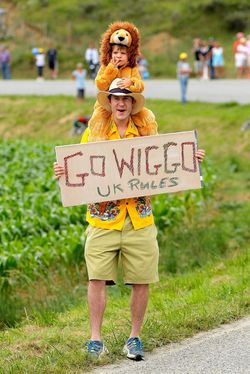 The tour has been my daily companion, the foreign accents of the announcers, the familiar background music and the beautiful images of the European countryside were like a live wallpaper.
But it's the morning after and I'm going through withdrawals. For 3 weeks my mornings have been consumed by the live coverage of the Tour de France and my afternoons by the replays.
One year I hope to be there live, following the riders as they go from stage to stage. Just one of the items on my bucket list, a really high on the list must do or I'll regret it item.
Till then, a high definition signal on an equally capable high pixel screen will have to make do. I can always add a stationary bicycle to the mix for a fully immersed experience. Coffee and croissants at the feed zone, the family yelling at me on mountain stages.
Never going to get to France
Mary Queen of chance, will they find you?
Never going to get to France
Could a new romance ever bind you?
---