My current Windows 7 desktop, full screen shot here.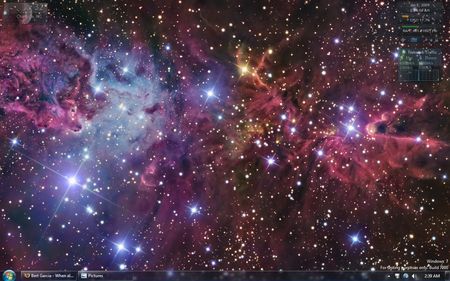 Happy to report, no crashes today, no dumps to upload. Uptime at the moment is at over 8 hours, I'm starting to feel trusting. Needed to increase the Windows 7 partition from 10GB to 20GB, I was already using close to 8GB, not leaving much room to install more software.
Partition Magic on Windows XP had issues with the Windows 7 partition, error 117, couldn't assign it a drive letter. Booted into Win7, to use it's own disk management utilities. Shrunk the partition that I use as the D: drive down by 10GB, but it wouldn't allow me to extend the partition that Win7 resides on. The empty space I had created was directly front of the Win7 partition, I guess it needs to be behind it?
Downloaded the latest version of GParted Live, burned it to a CD, and booted off of it. It allowed me to move the Win7 partition and extend it to 20GB, the whole process took about a half hour. When I booted into Win7, it instructed me to boot off the installation DVD and do a repair. Since the partition had been moved, the boot manager needed to be adjusted.
With the help of an Open Source partitioning tool, I can begin setting up house in this new Aero world.
If you got a question, then just get in line,
Cause my intentions, are to make you mine.
---