My laptop graphics card is not working well in Windows 7.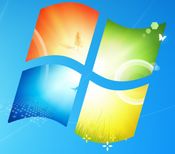 My 4 year old Gateway 7508GX laptop, has an ATI Mobilty Radeon X600 graphics chip that has already gone into legacy mode. AMD won't supply Windows 7 drivers, so I'm at the mercy of Microsoft.
There were issues running Windows 7 Beta, and they continued with RC1. I was hoping that the final release would solve the problems, but that wasn't the case as I found out this weekend when a friend on TechNet allowed me to use his copy of Windows 7 final to test with.
All throughout testing Windows 7, blue screens were the norm for me, couldn't quite figure out the problem. When I attached an external monitor to my laptop, I couldn't get dual monitors to work, the external monitor would take over and the laptop screen would blank out.
The only way I found out how to use both monitors was a bit of voodoo suggested by vool74 on this thread at the TechNet forums. Screwing around with my laptop's lid and invoking standby mode is not my idea of a solution, so I'll pass on Windows 7 on October 22.
Tell me, why should it be you have the power to hypnotize me?
Let me live 'neath your spell, do do that voodoo that you do so well.
---