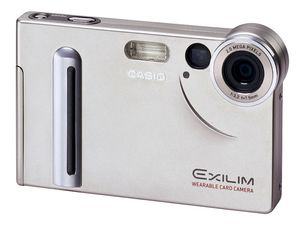 Back in 2004, I bought a Casio Exilim EX-S2, the slimmest pocket camera I could find. With a maximum of 2 megapixels per picture, it suited my needs and helped me to record my life's experiences. The camera is still functioning today, though it could use a new battery.
In 2006, I bought a Nikon D40, and it has been my primary camera ever since. A lowly 6 megapixel DSLR compared to today's camera market, but I truly don't see the need for more megapixels. The images it takes are great and they produce excellent 4×6 prints.
Over the last year, I've wanted to purchase a replacement for the Exilim, a pocket camera to take with me when taking the Nikon is not an option. Mostly on bike rides and nature walks when lugging other needs takes precedence.
The argument goes like this, pay about $50 for a replacement battery for the Exilim, or for a little bit more get a new camera. But I haven't found one yet, since most of today's pocket digital cameras come with an optical zoom, and that's a motorized part just waiting to break.
Honestly, I miss the Exilim, and I'm leaning towards putting it back into daily use. It's only a 2 megapixel camera, but it's stood the test of time and rugged use.
All the small things
True care, truth brings
I'll take one lift
Your ride, best trip
---